About us
Our business philosophy
Galerie Rhéa was established in 1990 and operates using a simple rule: when buying or selling antiquities from the ancient Mediterranean cultures, we strive to serve our clientele, be they museums, experienced collectors, or novice aficionados, by adhering to strict ethical and archaeological criteria and offering them our knowledge and advice.
All items are thoroughly researched, are free of liens and encumbrances, and their authenticity is fully guaranteed. We guarantee confidentiality and discretion in our work.
We Buy and Sell
Selling or consigning your antiquities with Galerie Rhéa offers a host of advantages. Our team of experts provides a comprehensive marketing and promotion strategy, which means your artworks will reach a wider audience. Our transparent conditions ensure that you receive a fair market price for your pieces. You can have peace of mind knowing that your pieces are in good hands and will be treated with respect. Finally, by consigning to Galerie Rhéa, you help preserve the legacy and history of ancient art for future generations.
With confidence, you can entrust us with the sale of antiquities you wish to part from. We are respected and committed dealers and happy to provide guidance, advice and support throughout the process.
Meet the owner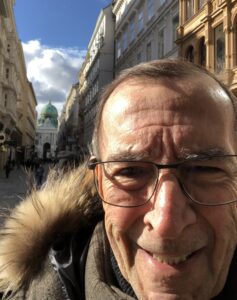 Michael Petropoulos is the proud Founder and Managing Partner of Galerie Rhéa.  Additionally, he is a dedicated father of five.
It is always his pleasure to be your host, be it virtually here on the website or in person in Zurich and he would be delighted to be contacted on any matter concerning your collection.
Michael is a born-and-bred Athenian, and as a child, he was fortunate enough to be living and playing amid the ruins of ancient Athens, Delphi, Delos and Rhodes. The ancient ruins were literally his playground. To this day, he is confident that the backdrop of his childhood subconsciously strengthened his eyes' ability to differentiate genuine style from imitations and forgeries, classical beauty and harmony from tawdriness and dissonance.
In Switzerland, he was initiated into the art trade by working in the legendary Galerie Nefer in Zurich in the 1980's. In 1990, the time was finally right to open the doors of Galerie Rhéa.
Galerie Rhéa quickly became one of the major players in the trade of ancient art mainly thanks to Michael's profound dedication and passion in the field, the support of renown scholars, curators, collectors and fellow dealers. Galerie Rhéa  was invited and exhibited at TEFAF Maastricht Art Fair for 23 consecutive years, as well as at other international fairs. Should you grace us with a visit here at Galerie Rhéa in Zurich, you will be rewarded with an experience of the charm and eclectic beauty of our collection – an experience that will no doubt only further energise your appreciation and love for art.