Autumn Rituals and Goddess Cults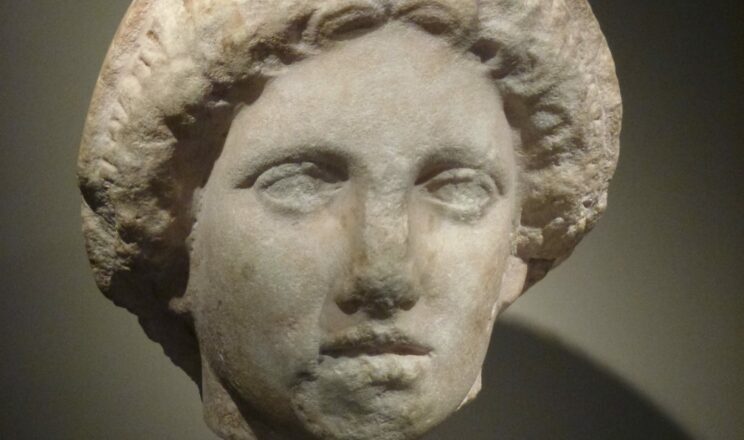 October 2022, Hannah Ringheim
It's that time of year when the leaves fall, the cool air sets in, and summer becomes a distant memory. As we celebrate the transitioning of the seasons, it's hard to miss the plethora of communal rituals that emerge alongside this change, causing the typical Archaeologist and Historian to do what we do best: reflect on the past.
Even in Ancient Greece, festivals were a staple within socio-political spheres and emphasised seasonal connections. Among many instances of this in antiquity, a prime example comes from the Classical Thesmophoria (θεσμοφορία), a three-day festival celebrated by the cult of Demeter and her daughter Persephone, whose origins stemmed from much earlier times. In the Attic calendar, the festival took place annually in October and November (the Pyanepsion), marking the beginning of autumn and a pivotal time for a successful harvest (Scholiast Lucian Dial. meret. 2.1).
Equally important were the goddesses who lay at the heart of this festival. As symbols of fertility and agriculture, Demeter and her daughter Persephone represented important domains for women and spoke to the multifarious role ancient women maintained in Greek religion. The 'mysteries', i.e. secret ceremonies, involved in the fertility and agrarian cult were restricted only to women and had been a topic of intrigue for Classical male authors; for instance, Aristophanes' well-known parody, the Thesmophoriazusae, uses the women of the Thesmophoria as a ploy for a greater commentary on Athenian society, the female position in society,  and socio-political roles. Scholarly interest continues to investigate what constituted these timely cult activities and what this can tell us about a period in which women had seemingly few political rights, but a notable amount of power in other spheres.
Historically, the festival was far-reaching and city-states in the Greek periphery celebrated the Thesmophoria and worshipped the goddesses. Cyrene, an ancient coastal city-state in modern day Libya, was notorious for its extramural sanctuary of Demeter and Kore (Persephone). The location outside the polis walls is symbolic of the female identity as women who are on the fringes of society, and yet essential to the religious domain. The sculptural findings from the sanctuary are manifold; examples of such life-size depictions of Demeter and Persephone include that of the bust illustrated below. These were sanctuary offerings made by the worshippers of Thesmophoria, by travellers, as well as by local women and men making dedications to the goddesses.
The deep roots of autumn festivals and the significance these events and cults had for an ancient society, whether it be for agricultural reasons or gender-defined roles, should not be underestimated. The remains of honouring transitioning seasons still surround us and symbolise the worldly changes humanity has always observed.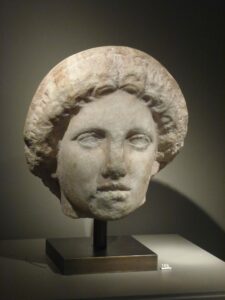 Marble head of a goddess, Classical Greek, ca. 360 BCE. Collection Galerie Rhéa.